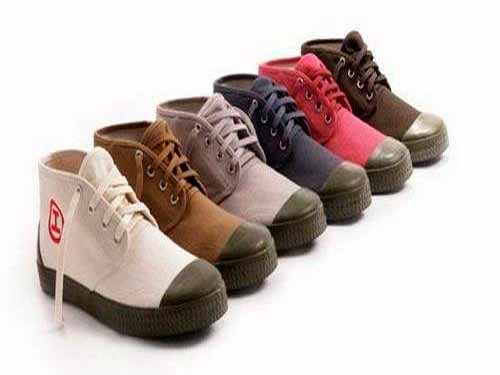 On September 1st, the word "Made in China" has a different hint of color under different circumstances. Prada, an Italian luxury brand, is willing to pay 3.6 billion euros to the bank for three years and refuses to accept capital injections from Chinese companies. China's capital is increasingly enthusiastic about acquiring shares or even acquiring western luxury brands. At the same time, some traditional Chinese excellent brands have also been improved and revived in European and American countries.
Although canvas shoes have been popular in the world for a long time, many young companies have drawn their inspiration from traditional Chinese brands and have shown Chinese classic styles to European and American customers. These Chinese-made canvas shoes have also found themselves in the most avant-garde stores. Place.
At the autumn fashion fair for sports shoes held in New York this year, at least four brands with Chinese origins came to showcase their casual canvas shoes, including Huali, Shulong, Liberation and People's brands. In addition, Leap, the French brand revived in China, has also created a brilliant retail performance. In New York's Odin and American Rag, its performance is very prominent, and movie star Orlando Bloom also wears it to take photos.
Although these brands have some very similar characteristics: the shape of the canvas is Chinese style, production is the use of rubber * technology, many of which brands have upgraded the material, the design also follows their unique inspiration, And use a portion of the sales proceeds for charitable purposes. Of course, there is also a slight difference between them.
Bobby Touran is one of the owners of the company, claiming that the main goal is to re-imagine the existing brand. As a classmate at McGill University in Montreal, Bobby Touran and Alex Fraenkel were affected by the popularity of China's back shoes, so they decided to work with Fraekel's childhood partner Danny Danesh to purchase ownership and bring the brand to the United States. As a Finnish photographer and designer of Chinese descent, Shumeng Ye also joined the team responsible for the design work.
The team reached an agreement with the company where the company was back, allowing inspiration from the brand's archives, adjusting some of the existing forms, and using new materials and colors to meet the needs of customers. The brand will explore the use of new materials and add some erosion-erosion styles to neutral-priced shoes that cost about $40 to $60. They sold very well at Ubiq in Philadelphia and Patta in Amsterdam.
Liberation shoes are also hoping to expand their style: Since the launch of their own style in the spring of 2007, founder Ben Walters is also slowly introducing new styles. The original lightweight high-top canvas shoes series (based on the original Chinese liberation shoes style) also joined some cold-proof shoes and low-cut styles in the spring. However, he still tends to maintain the original style of liberation shoes. Last month, the brand held a "Proud Made in China" event on its official website. This site is also the main channel for the sales of neutral canvas shoes at prices ranging from $48 to $73.
For Anton Brandt, the founder of Los Angeles-based People's Shoes, manufacturing his classic green lace-up worker shoes is his mission. Since its introduction in the spring of 2008, the simple design of the brand, as well as affordable prices of $42 to $48, has contributed to its sales in the trend market and has begun to look for more environmentally friendly glue and materials.
In recent years, sports shoes have been far from exaggerated expression, and consumers also want them to look low-key. From an aesthetic point of view, these Chinese brands exhibit anonymity just as everyone looks the same. In addition, what consumers want to express is that they are citizens of the world, not sports athletes. These Chinese traditional brand canvas shoes, which are rich in historical stories, are meeting the demands of European and American customers.
Metal Badge Reel,Plastic Badge Reel,Other Badge Reel
Lovecolour Ribbon & Lanyards Co., Ltd. , http://www.gdribbonbuckles.com