The same pursuit leads to each other's encounters. Winsdom & B, Dongguan City, under the wind clothing brand with unparalleled brand, product advantages, etc. attracted many parties interested in clothing business colleagues joined together to achieve success of the cause of women's fashion, fashion feast to share the feast.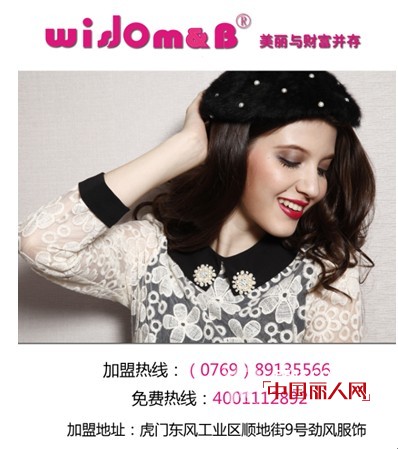 WISDOM & B clothing, with elegant and noble dress, writing "heritage glory and classic" fashion spirit. As a classic women's brand , in this event bloom glory of light. In addition, WISDOM & B as the elite women's fashion benchmark, with deep meaning, to create meaningful fashion, build a generation of urban OL image.
WISDOM & B apparel in the winter of 2012 to release their own future fashion new women, WISDOM & B women's brand main product styles are sweet lady series, ladies fashion series, fashion series, urban classics to work class! They were clever and sweet, pure and romantic lady style, a new fashion atmosphere, vibrant sunshine fashion lady style, elegant woman, simple style of intellectual lady, OL wearing fashion dignified image as the center, highlight the lady's wisdom, capable and elegant ! Here you can find that belongs to yourself Oh!
Join WISDOM & B you can enjoy:
1, decoration - Simplification: The company will be the site for the franchise store decoration design drawings, a unified trademark, store image and business VI, franchisees do not have to worry about the decoration.
2, shop - easy: the company provides customers with site selection guidance, market research, opening discount products, opening ceremony programs such programs, so that each store is a good business to open the door
3, advertising - continued: the company to provide free part of the store wide information materials (window posters store POP banner hanging frame, etc.) to do the advertising area where the company, the company will continue to give support.
4, promotion - landing: the company will stage some large-scale theme of promotional programs, a professional management and supervision of training and guidance to complete.
5, consulting - diversification: the company has professional customer service supervision, solve the problems in the operation, and constantly through the business guidance, business planning, project guidance, special assistance to help the smooth and rapid operation of the forward. Marketing training, development training, training and other upgrades to constantly recharge your recharge.
6, the exhibition - Vivid: The company can be characterized by the product, make the display vivid, activate the enthusiasm of the terminal to buy, so that burst into terminal stores amazing energy.
7, management - standardization: a unified store image, strict regional protection, standardization of office processes.
Dongguan City, wind Clothing Co., Ltd
Join Hotline:
Free hotline:
Fax:
Website: http: //
Address: Humen, Dongguan City, Guangdong Dongfeng Junyi Building
Guangzhou Yanzi Textile Co., Ltd. is a comprehensive company integrating design, development and production. Having certain influence and appeal in the domestic market, we have cooperated with more than 1,000 well-known brand clothing companies so far. Moreover, our products are sold well in more than 30 countries and regions including Middle East, Southeast Asia, Europe and America. Our company owns self-support import and export rights and has a domestic professional design team. We mainly produce diversified products such as embroidery fabrics, lace fabrics, jacquard fabrics and knitted fabrics, etc.

Yanzi Textile has a team that is hardworking, passionate and innovative. We are full of vigor and ideal in our work. Good services to our clients is the core goal of our daily work.

Hand Beaded Lace,Beaded Lace Trim,Handmade Beaded Lace Fabric,Pearl Beaded Lace Fabric
Guangzhou Yanzi Textile Co.,Ltd , https://www.gzyanzilace.com