On June 6th, the 2009 Brand China Women's Charity Awards Gala was held in Beijing Jiuhua Villa. The evening was co-hosted by Xu Haoran, one of the top ten TV show hosts in China, and Yang Juan, the famous host of Travel Satellite TV. The purpose was to take stock of the outstanding contributions of Chinese outstanding women in the rise of China and social transformation, to promote the recognition of women of the year and promote the career of Chinese women brands. Better and faster development in the new century. The scene unveiled "2009 China Top 10 Brand Women" and "60 Brand Women Affecting China's Development Process."
Winner Costume Chairman Chen Lingmei Awarded 2009 Brand Top 10 Women in China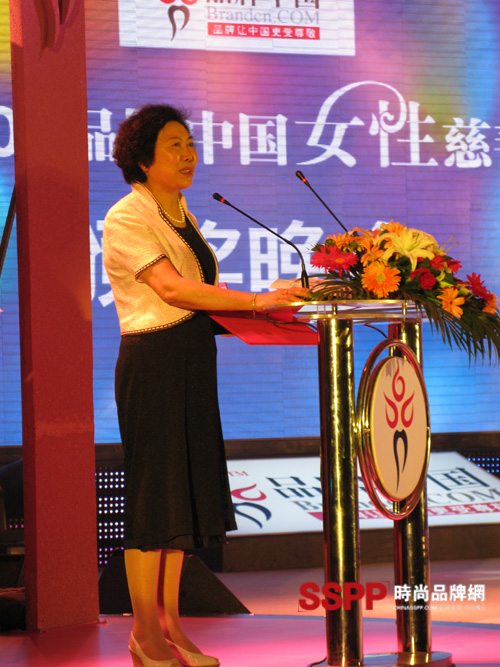 Chen Dong won the 2009 China Top 10 Brand Women and delivered an acceptance speech
Chen Lingmei, Chairman of Shenzhen Winners Apparel Co., Ltd., Deng Yaping, Member of National Youth League, Deputy Secretary of Communist Youth League Beijing Municipal Committee, Dong Mingzhu, President of Gree Electric Appliances Co., Ltd., Li Aijun, Chairman of Taoyuanju Industry (Shenzhen) Co., Ltd., Global Marketing of Tsingtao Brewery Co., Ltd. President Yan Xu, Executive Vice President of the China Cuisine Association, Yang Liu, President of the World Chinese Cuisine Federation, 10 Vice Presidents of Nalco Global Vice President and Greater China Region, and former Vice President of Kodak, Ye Xuan, won the 2009 China Top 10 Brand women;
Wang Yong, Secretary-General of the China Industry Alliance of Brands, spoke of the significance of the event, saying that the evaluation criteria of the 2009 Top Ten Women Brand Awards in China included public influence, spiritual values, business value, innovation value, and social responsibility. Public influence refers to the fact that individual behavior and deeds have positive and lasting influence on society. It has become a role model and model for popular learning, and has produced a great impetus for forming a good social atmosphere. Spiritual value refers to advocating or leading the times. The spirit has made great contributions to the revitalization of women's spirit; commercial value refers to making outstanding contributions to the country's economic construction, creating more employment opportunities and stimulating regional or industrial development; innovation value refers to the ability to continue In the field, it promotes change and continuously discovers and creates new values. Social responsibility refers to actively participating in various social charity activities and philanthropy and promoting the development of various public utilities.
Prev 1 234 Next Full Story
Pirn Winding Machine is in the preparatory industry of textile weaving and tatting to roll or Wind The Bobbin Yarn into woof yarn for weaving. The machine is Suitable for Winding Different Yarns (silk threads) such as pure cotton, trueran, ramie, low elasticity filament, mid fibre, etc..
Weifang Jiurui Textile Machinery Co.,LTD(ORIGINAL Weifang Junde Textile Machinery Co,LTD ) located at the beautiful international Kite capital--Weifang, Shan Dong Province,China.We specialize in developing and manufacturing 1511,1515,GA615 series shuttle changing automatic loom,1511,1515GA615A series multi-box loom, GA615B(A) series towel loom,GA74 series repier loom and GA74B(T) series rapier towel loom and varieties of spare parts. In order to make our company more competitive,we spare no efforts to keep all the products at high quality and perferential price. In addition, our prompt delivery and massive production capacity enable us to meet the requirements of the most demanding and quality-oriented customers. With rich technical and production experience, our company has won the confidence of numerous renowned customers. Our dynamic marking team, together with our experienced technicians and skilled workers, are always ready to serve you.
Please feel free to contact us if you have any requirement, and we will try our best to satisfy you.
Textile Machinery Pirn Winder,Textile Weaving Pirn Winder,Suitable for Winding Different Yarns,Wind The Bobbin Yarn
WEIFANG JIURUI TEXTILE MACHINERY CO.,LTD.CHINA , http://www.chinashuttleloom.com