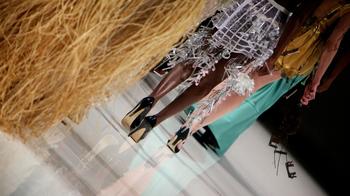 Guilin, a member of the China Association of Fashion Designers and one of China's top ten divisions, said in an interview with this reporter that from a professional perspective, the design, layout, and crafts of the Chinese garment industry need to be carefully addressed to the international big names. Learn. "In addition to the need for enterprises to invest funds, this type of learning and training also requires government support and requires a good social support environment."
The absence of the design master Ji Lin was interviewed by this reporter at the "Beijing Fashion Circle qq group" 2013 fashion festival. "Beijing Fashion Circle qq Group" brings together many ambitious fashion designers, pattern makers and business owners in Beijing's garment industry. It has been established for more than five years, and its power has grown and it has reached more than 800 people. The rules and regulations of this non-governmental organization are fully focused on the technical exchange within the industry. For example, in the exploration of the way out for local fashion brands, they feel that they should pay attention to and accelerate the study and promotion of professional technology, research and development, and promote standardized production.
The founder and general convener of "Beijing Fashion Circle qq Group" Xiang Yan believes that although China is already a big country in garment manufacturing, it does not have a world-class brand and design master. This is precisely why Chinese apparel products have become passive in the international market. The root cause.
However, according to Ge Junkang, executive member of China Fashion Designers Association, garment manufacturing is actually a systematic project. How to clearly recognize the logic and laws is still a major issue faced by the Chinese garment industry. Ge Junkang told this reporter that while many large-scale garment companies have established their own R&D teams, some of the technical issues related to the platemaking process in the manufacturing process have not risen to a very high level to understand and understand them. China is already the world's largest apparel manufacturing country, but if we only value the increase in sales of apparel products, the world reputation of Chinese apparel brands will be difficult to establish.
Scarcity of Advanced Makers Currently, the China Fashion Designers Association is promoting the research and summary of type-making techniques. Ge Junkang said: "The platemaking process is directly related to the perfect embodiment of the design effect." Ge Junkang believes that in the apparel industry, senior-type teachers are scarce resources, their experience is often difficult to copy, and the Fashion Institute does not offer a type-making professional. Many students graduating in fashion design have to be diverted because they do not have the type production techniques and theoretical knowledge and are often unable to complete the design work. Because the modern clothing version has long been cut from flat to three-dimensional, this tailoring method not only fully expresses the beauty of the human body curve, but also makes the brand charm fully reflected in the version. The model division is also worth so much.
"In the case of a company with a designer or a pattern maker as its leader, relatively speaking, there will be less detours." Jin Li, one of China's top ten divisions, told this reporter. Ji Lin believes that the international big names are the founders' 50 years and 100 years of hard work and local cultural accumulation. We must see these real things. The French made clothing as art. The Italians used clothes as crafts. The Americans used clothes as products. Many Chinese used clothes as tools to make money. But now, more and more entrepreneurs have realized that they must invest funds to send people to study abroad. They must pay attention to the development of outstanding model teachers and pay attention to the training of production techniques.
There is no way out of short-term peace, Ji Lin believes that if Chinese companies only pursue short-term fast, brand quality will never be improved. "The international big names look handsome, beautiful, and self-cultivated. Most domestic brands wear no spirits. If the overall size is very low, Chinese products may be poorly designed, with one point difference in pattern, one point difference in raw materials, and one point difference in technology. One sample is poor, one is poor, and the difference is more than half. It is true that some big international brands are produced in China, but its production is standardized production, the production process is clear, and the products that come out are bound to be excellent high-quality products. The Chinese brand production layout is not standard, and all technical content is not reflected in the edition, so that in the production process, the design may have all the aura and cultural things lost."
Xu Jingxue, the design director of a fashion apparel design company in Beijing, wore her own costume piece "White Butterfly Love" catwalk after winning the "Best Fashion Lady Award" at the 2013 Beijing Fashion Week. She said that good works should have a soul.
Ji Lin said that some international big names recently showed a trend of becoming younger and more popular, and in doing subtraction, the fabrics are not as high as the original ones, and the prices have fallen a lot, which will have a great impact on the Chinese domestic market. Many consumers will consider buying second- or third-tier products with the same price. The shrinking of exports has caused the entire garment industry to find it difficult. Academics and industrial development all share a common desire to change, but the difficulty of change seems to be great. Changing the predicament of the garment industry and changing the backwardness of China's apparel brands are the key factors. where?
According to Jin Li's analysis, while Chinese brands are seeking change, they should still base themselves on their own national culture. Many apparel manufacturers are not clear about this position, and many companies are confused. Clearly positioned brands, products must be sold well. There are many companies that like to chase after the wind, but not necessarily with the company's overall image and product style. As the market continues to regulate, with the increasingly obvious features of multi-category and small-batch markets, speculative businesses that win by volume will become increasingly difficult to do. From a technical point of view, different types of models are aimed at different groups and it is difficult to achieve the universal goal.
All eyes will be on you with statement wholesale fashion Jewelry Earrings from ORDRM®. Discover large assortment of wholesale earrings, Chain Drop Earrings, Long Drop Earrings, stainless steel Stud Earrings and Stainless Steel Hoop Earrings at wholesale. China factory direct wholesale high quality stainless steel earrings. True wholesale pricing & volume discounts. Fast shipping & amazing service. Choose your style now!
Details of our jewelry earrings:
Main metal: 304 or 316L stainless steel
Main stones: crystal rhinestone, pearl, cubic zirconia
Plating color: IP or PVD plated gold, rose gold, black
Finish: high polish, matte finish, brush finish, sandblasted
Packing: opp bag or velvet pouch or gift box
About ORDRM®
Dongguan Original Dream Jewelry Co.,Ltd is is an OEM jewelry factory which has focused on manufacturing stainless steel earrings for 8 years. We offer large selection Fashion Jewelry earrings for wholesaler or distributor. You can find all kind of fine jewelry earrings, stainless steel jewelry earrings, gold plated earrings in this page. All earrings are made from our own factory in China. Whatever you are a group or individual, we will do our best to provide you high quality & best price wholesale jewelry earrings.
Jewelry Earrings
Jewelry Earrings,Chain Drop Earrings,Long Drop Earrings,Jewelry Fine Gold Earrings
Dongguan Original Dream Jewelry Co.,Ltd , https://www.ordrm.com